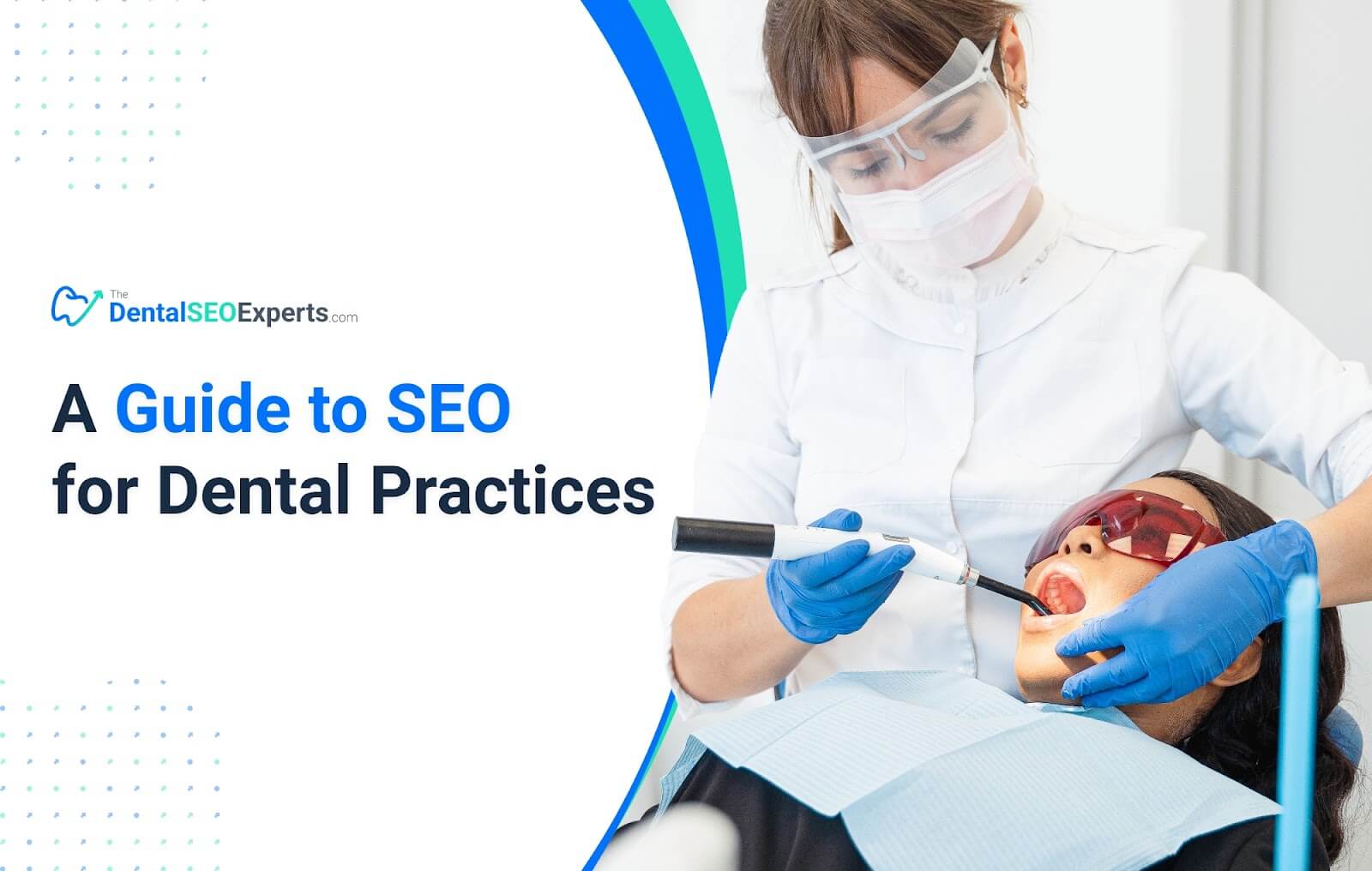 Are you a dentist looking to improve your
dental practice's SEO
? If so, then this guide is for you. Here, we'll cover everything you need to know about SEO for dentists, from choosing the right keywords to optimizing your website, plus several
dental SEO tips
. By the end of this guide, you'll be well on your way to attracting more patients online.
What Is Search Engine Optimization (SEO)?

Search engine optimization, or SEO, is the process of improving the ranking of a website on search engines like Google. The higher a website ranks, the more likely it is to be seen by potential patients.
Why Is SEO Important for Dentists?
Dentists rely on word-of-mouth marketing to attract new patients, but with more and more people using the internet to find local businesses, it's essential to have a solid online presence. SEO for dental websites can help improve your practice's visibility and bring in more dental patients.
How Can I Improve My Dental Practice's SEO?
There are many things you can do to improve your dental practice's SEO, but here are a few of the most important:
Choose The Right Keywords
When choosing keywords for your website, think about what patients would be likely to search on the search engines. For example, if you're a dentist in San Francisco, you might want to target keywords like "dental services in San Francisco" or "dentist near me."
Publish High-Quality Content
Google loves high-quality content, so publishing fresh, original articles is a great way to improve SEO of websites for dentists. Not only will this help attract new patients, but it will also make your website more authoritative and trustworthy.
Get Links from High-Quality Websites
One of the most critical factors in SEO is the number of links a website has from other high-quality websites. So, if you can get links from popular sites in your industry, it will help improve your ranking considerably on search engines.
Use Social Media
Social media platforms like Facebook and Twitter are great for promoting your dental practice to a broader audience. Not only can you share articles and blog posts on these platforms, but you can also use them to interact with patients and answer their questions.
Track Your Results
It's essential to track your dental practice SEO campaign's progress to see if your efforts are effective. There are many tools and platforms available that can help you manage and track, such as Google Analytics, Google Search Console, and SEMrush.
Different Types of SEO

There are many types of SEO, but here are a few of the most common:
On-Page SEO
On-page SEO is concerned with the internal considerations of a website. For example, keyword volume in content, title tags and content hierarchy. The primary goal of on-page SEO is to increase your website's position on search engines results pages (SERPs), as well as to increase visitor retention rate.
Off-Page SEO
Unlike on-page, off-page SEO is focused on external enhancement directed towards a website. Some of the top off-page methods include, generating backlinks, influencer marketing and social media advertising. Here, the aim is to increase domain authority, which in turn, improves SERP favorability.
Local SEO
Local SEO is the process of improving a dental website's visibility in local search results. It's based on several factors, including relevant search queries and user location. The main objective of local SEO for dentists is to generate interested patient leads likely to engage with your practice.
Technical SEO
Technical SEO is centered around more complex considerations, such as CSS and XML optimization. These enhancements make it easier for google and other search engines to crawl and index your site. The more efficient this process is, the more likely your site is to appear highly on SERPs.
What Is Backlinking?

Backlinking is a process that helps improve a website's SEO. It involves getting links from other websites to your own, which helps increase your website's authority and trustworthiness. This, in turn, can help you rank higher on search engines.
There are many ways to get backlinks, including guest blogging, link building, and social media promotion. However, the most effective way is to reach out to high-quality websites and ask them to link to you.
If you're looking for ways to improve your dental practice's SEO, backlinking is a great way to start. By getting links from authoritative websites, you can improve your ranking and bring in more patients.
Google My Business & SEO

Google My Business is a free platform that allows businesses to create a Google listing. This can help improve your website's SEO by increasing its visibility in search results.
To create a Google My Business listing, you first need to create a Google account. Then, you can enter your business information, including your address, phone number, and website.
Once your listing is created, you can add photos, videos, and product information. You can also update your hours of operation and receive customer reviews.
The best part about Google My Business is that it's free to use, and it helps improve your website's SEO rankings. So if you're looking for ways to improve your dental practice's online presence, Google My Business is a great place to start.
Common Dental SEO Mistakes

There are many common dental Search Engine Optimization mistakes that can hurt your ranking. Here are a few to avoid:
Not optimizing your website for mobile devices
Not using keyword-rich titles and descriptions
Not setting up redirects
Not creating an XML sitemap
Not using social media
Not tracking your results
If you want to avoid these mistakes, it's important to optimize your website for SEO and track your progress over time. This will help you see what's working and what's not, so you can make the necessary changes to improve your ranking.
The Bottom Line
SEO is a vital part of any dental practice's online marketing strategy. By optimizing your website, you can improve your visibility in search results and bring in more patients
Effective Dental SEO Services from The Dental SEO Experts

The Dental SEO Experts are a team of
dental SEO consultants
that help dentists improve their online visibility and attract more patients.
We offer a wide range of dental marketing services, including SEO audits, keyword research, on-page optimization, and link building for dentists. We also create custom marketing plans and track your results over time.
If you're looking for ways to improve the SEO score of your dental practice website, we can help. Go ahead and contact us today to learn more about our services.