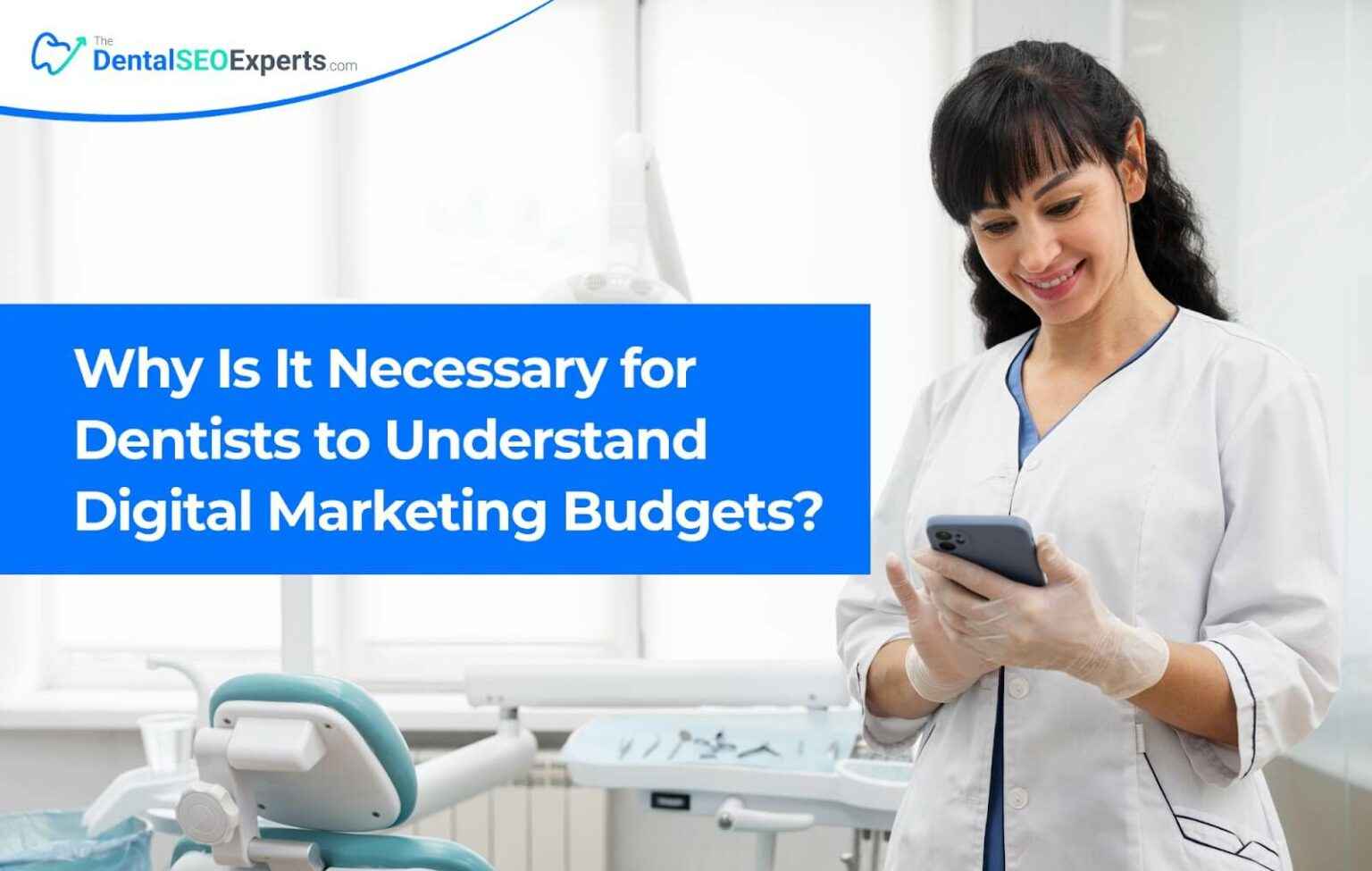 As the old saying goes, 'if we build it, they will come.' This is an optimistic philosophy that many businesses follow, dental practices included. The trouble is, apart from a few special cases, it's simply not true. Growing a successful business and attracting a high volume of patients to your clinic in 2022 takes hours of digital marketing efforts, all of which begin with two essential elements: a solid strategy and a suitable marketing budget.
This article discusses the importance of digital marketing budgets for dental clinics and how to accurately set one. Keep reading to learn more, or check out our blog for more advice on marketing your dental practice.
What Is a Digital Marketing Budget?

A digital marketing budget is the amount of money and resources a business dedicates to online advertisement and promotional endeavors. For dental clinics, this means setting aside a certain amount of money to reach new patients through online channels, such as
SEO and PPC advertising
. This budget affects several aspects of marketing efforts and is contingent on your desired results. For instance, smaller budgets are less likely to achieve the same results as larger budgets, but if you're targeting a niche demographic, this may not be an issue.
How Do Budgets Impact Marketing Strategy?

You may have a particular marketing strategy in mind for your practice–perhaps there's one that's worked in the past that you'd like to try again. However, the effectiveness of your marketing strategy depends on your budget and access to resources. If, for example, you have access to a team of technical copywriters, you may be able to run a successful SEO campaign for only the cost of their salaries. Unfortunately, dental practices don't typically employ copywriters, so an advertising budget is required in order to gain exposure, run fruitful campaigns, or hire a
professional dental marketing agency
.
Why Does Your Dental Practice Need an Effective Marketing Budget?

Effective Resource Allocation
When problems arise, without a budget, it's tempting to throw time, money, and other resources at your marketing campaign until you see results. A good budget will prevent this from happening by allocating resources appropriately. This makes the mismanagement of funds more noticeable and holds you accountable. Furthermore, effective resource allocation helps you target marketing funds where they're most needed. If you're running a social media marketing campaign, less money will be required for copywriting services than when employing an SEO strategy. A budget helps you to optimize your marketing spend.
Helps Monitor Results
Setting a digital marketing budget enables you to track the success of your campaigns through cost analysis. For example, dividing your total marketing spend by the number of customer conversions or web traffic generated will show you exactly how much you've spent per customer. If each conversion costs a high percentage of your overall budget, then something's amiss, and you may need to rethink your strategy. The perceived cost-effectiveness, however, will largely depend on your marketing goals. For instance, If you're looking to increase brand awareness, then tracking customer conversions is not strictly necessary, and you will want to monitor impressions, social interactions, and web traffic.
How To Plan an Effective Marketing Budget

Now that we've explored the importance of digital marketing budgets and how they can benefit your dental practice, let's take a look at how to actually plan one effectively.
Step 1: Identify Marketing Priorities
As previously mentioned, your total marketing budget will change depending on your goals and desired results. Subsequently, the first step in planning an effective marketing budget is to identify your priorities. Is your aim to improve brand awareness, increase lead generation, boost website traffic, or convert customers? The answer to this will have a bearing on your final budget and digital marketing strategy. For instance, if your primary goal is to increase customer conversion, you'll want to invest more resources into SEO and targeted keyword research over PPC advertising, which has differing costs.
Step 2: Consider Your Operational Costs
Operational costs denote the price of running your dental clinic day-to-day. This includes costs such as employee wages, property rent, equipment, and more. Unlike these costs, a marketing budget is not fixed, meaning marketing spend is variable and should be carefully considered so as not to strain essential expenses. If done effectively, you may even find that you don't spend your entire budget when running online ads. When hiring a digital marketing agency like The Dental SEO Experts, a fixed price can typically be agreed upon, whether as a monthly or one-off payment. This puts your marketing budget into the hands of professionals, allowing you to step back and focus on running your clinic.
Step 3: Consider Your Digital Marketing Channels

Next, you'll need to consider your digital marketing channels. This means selecting a primary avenue of advertising, as well as others you wish to explore. The channels you select will affect how large or small your budget needs to be. Let's take a look at some of the most useful online marketing channels and how they may affect your marketing spending.
Social Media Advertising
A large part of social media marketing is placing pay-per-click (PPC) ads. These are social media posts that target users based on their demographics and interests. Each time a person follows the link associated with the ad, you pay a small fee. Correctly targeted social media ads are an excellent way to draw leads to your dental practice without overspending. However, if you don't have professional knowledge of PPC advertising, you risk spending a lot of money for little reward. It's best to run a few low-budget test ads first to see what demographics and interests are most effective. You should also consider setting a lifetime budget on your social media ads manager instead of daily if you have limited marketing knowledge.
Email Outreach
In 2022, email outreach is an often overlooked facet of digital marketing, yet it remains incredibly effective when executed correctly. However, to achieve impressive results, email marketing is costly, as it requires specialized marketing tools for bulk mailing, access to copywriters, and, in some cases, marketing managers to establish email trees. If you're considering employing email outreach as part of your marketing tactics, there are two options to consider: manually write and mail potential clients yourself, or hire an expert agency to do so on your behalf.
Search Engine Optimization
Search engine optimization (SEO) is one of the most cost-effective and fruitful means of online advertising available. It allows you to expose your practice to a narrowly targeted audience over a long-term period, attracting genuinely interested leads. This makes SEO particularly useful for dental practices as it can be used to attract local patients. Subsequently, you need to account for the additional time it takes to see results in your marketing budget.
Step 4: Create a Marketing Plan

After carefully selecting your digital channels, you should create a marketing plan. This plan should cover your goals and marketing methods and outline a timeline for your campaign to take place. Using a Gantt chart is an excellent way to plan your marketing schedule, as they allow you to visualize when each aspect of your campaign begins and ends, as well as where your resources are going. Thoroughly planning your marketing campaigns will help you to identify how much spending is required and for what period.
Step 5: Set Your Budget
Once you have followed the above steps, you should be ready to set your digital marketing budget. Be sure to allow yourself a financial cushion when using marketing methods with variable costs such as PPC ads. If, however, you are unsure about creating a digital marketing budget and running a campaign yourself, you should contemplate employing an expert agency. You can learn how to do this by reading our guide to hiring a dental marketing company. Otherwise, consider working with us, The Dental SEO Experts.
How The Dental SEO Experts Can Help

At The Dental SEO Experts, we have a team of dedicated
dental SEO specialists
ready to help you run a successful marketing campaign. We offer the following services:
Search Engine Optimization (SEO)
Link Building
Google My Business Management
Social Media Marketing
Website Design and Development
So, if you'd like to take advantage of our exceptional services and expert team, schedule a call with us today.