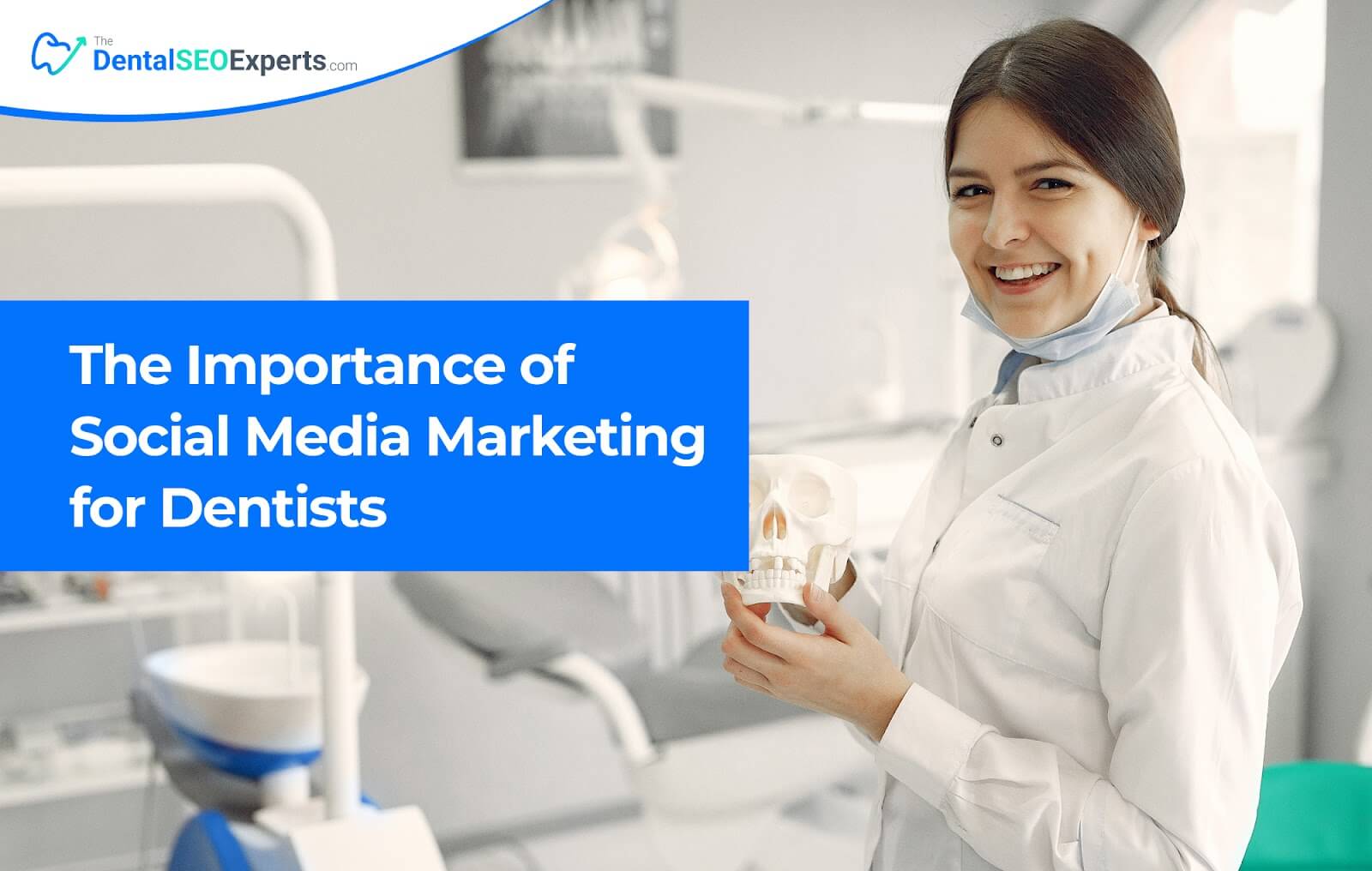 It's no secret that
social media marketing
is a powerful tool for businesses of all sizes. What many dentists don't realize is that social media can be an incredibly effective way to market their practice.
A social media campaign can help you build a solid online presence, attract new patients, and grow your business when used correctly. This blog post will discuss the importance of social media advertising and how dentists can use it to their advantage.
What Is Social Media Marketing?

Social media advertising is the process of using social media platforms to promote your business. This can include anything from creating and sharing content to running ads and engaging with both current and potential patients.
Why Is Social Media Marketing Important for Dentists?

There are several reasons why
social media marketing for dentists
is essential. Perhaps the most important reason is that it allows you to reach a large audience of new patients.
With over 3 billion people using social media worldwide, there's a good chance that your target audience is active on at least one platform. And since dental care is a local business, social media provides an easy way to connect with people in your community who may need your services.
Additionally, it allows you to build trust and credibility with potential patients. In today's digital world, people are increasingly looking to online reviews and social media posts before making a purchase. By having a strong social media presence, you can show new patients that you're an authority in your field and that they can trust you to provide quality care.
Benefits to Social Media Marketing for Dentists

Reach a Large Audience
As previously mentioned, social media sites have a wide reach, enabling you to connect with literally millions of people worldwide. Among those millions of people is a segment of users not only interested in dentistry, but also looking for dental appointments. As a result, social media sites are an excellent way to reach a large audience of new patients.
Cost-Effective Marketing
Social media marketing is one of the most cost-effective marketing strategies available. It's estimated that businesses can earn up to $2 in revenue for every $1 they spend on social media advertising. Though, if you're not inclined to spend money on advertising you can leverage social media features for free.
Increased Brand Awareness
A solid social media campaign can help increase brand awareness and recognition for your dental practice. This is done by creating relevant dental social media posts that are shared to your followers, encouraging engagement and creating a connection between you and new patients.
Improved Patient Engagement
Social media platforms provide an easy way to stay in touch with your patients and keep them engaged with your practice. Whether this be through exchanging direct messages regarding appointments and practice information, or by interacting with each other's posts, social media is an excellent way to keep in touch with patients.
Generate Leads
Social media sites provide an effective way to generate leads and attract new patients. This is as a result of the above listed benefits of social media advertising for dentists. Together, they create a comprehensive way to bring new leads into your practice.
How to Use Social Media for Dentists In 9 Simple Steps
Now that we've discussed the importance of social media for dentists, let's take a look at some tips on how dentists can use it to their advantage.
1. Create A Plan
The first step is to create a social media marketing plan. This should include setting goals, determining which platforms to use, and creating content aligned with your overall marketing strategy.
2. Focus on Quality
It's essential to focus on quality over quantity when it comes to your social media content. Rather than posting multiple times a day, focus on creating high-quality content that your audience will want to share.
3. Use Visuals
Visuals are a powerful tool for dental marketing, much preferred by younger audiences of which there are plenty on social media. When creating content, be sure to use images and videos that capture your audience's attention.
4. Engage with Patients
Make it a point to engage with patients and answer any questions or comments they may have. This helps to make your audience feel valued and have a sense of community, which will inspire them to return for more.
5. Use Paid Ads
If you're struggling to reach a substantial audience organically, pay-per-click (PPC) ads can be an effective way to expand your social media following. They allow you to target niché groups of people with specific demographics and interests. Social media PPC ads are also cost-effective, often with no minimum spend.
6. The 80/20 Rule
The 80/20 rule states that 80% of your content should be educational, while only 20% should be promotional. This is an important rule to keep in mind when creating dental social media posts as it helps keep your content fresh and engaging. Constantly posting promotional content will only serve to bore your followers.
7. Keep It Short & Sweet
People are more likely to read shorter posts, so keep your content brief and to the point. However, there are some exceptions to this rule depending on your target demographic. Older audiences, for instance, prefer long-form content packed with information.
8. Be Consistent
It's important to be consistent with your content publishing schedule, so your followers know when to expect new updates. Regularly posting content also puts you in favor with social media algorithms, meaning your posts are more likely to be promoted without spending money on PPC ads.
9. Monitor Results
After posting content to your social media accounts, it's vital that you monitor their analytics. This means keeping an eye on views, likes, comments and growth rate. Doing so will enable you to identify weak spots in your content and make the necessary adjustments.
The Different Types of Social Media Sites and How They Can Be Used to Reach Customers

Each platform has a different audience and can be used to achieve different goals.
Facebook
Facebook is the largest social media platform with over 2 billion monthly active users. The platform can be used for various purposes, such as sharing blog posts, promoting special offers, and interacting with patients. It's particularly useful for targeting older audiences.
Twitter
Twitter is a microblogging platform that allows users to send short updates of up to 280 characters. The platform can be used for sharing news, answering patient questions, and monitoring feedback.
LinkedIn
LinkedIn is a professional networking site that has over 500 million members. The platform can be used for creating business connections, sharing content, and recruiting new employees. LinkedIn is an excellent social media site for business to business advertising.
Instagram
Instagram is a photo-sharing platform with over 800 million monthly active users. The platform can be used for sharing photos and videos, promoting products, and connecting with younger customers.
Snapchat
Snapchat is a mobile app that allows users to share photos and videos that disappear after viewing. The platform can be used for promoting products, connecting with customers, and creating brand awareness. Snapchat is a great place to create closed, exclusive communities.
Google+
Google+ is a social networking site owned by Google. It can be used for sharing content, connecting with customers, and monitoring feedback. Google+ is also used in many search engine optimization campaigns thanks to the Google My Business features.
Each platform has its advantages and can be used to reach different audiences. It's important to consider which platforms are most relevant to your business and use them to reach your target audience.
Tips for Staying Up-To-Date with the Latest Trends in Social Media Marketing
If you're in the business of dentistry, it's important to stay up-to-date with the latest trends in social media for dentists. Here are a few tips to help you do just that:
Follow Dentistry-Related Hashtags
Hashtags are a great way to see what people are talking about in real-time. By following relevant hashtags, you'll be able to quickly and easily see what's trending in the world of dentistry.
Join Online Communities
There are many online communities dedicated to dentistry and dental marketing. Joining these communities will allow you to connect with other professionals who can offer insights and advice on the latest trends in social media marketing.
Read Dentistry-Related Blog Posts
There's a wealth of online information about social media for dentists. By
reading blog posts and articles, you'll be able to stay up-to-date with the latest trends and tips. This is also an excellent opportunity to identify guest post websites for link building.
Read Dental Trade Publications
Reading industry-specific news sources is a great way to stay on top of the latest developments in your field. Trade publications are an important source of technical information regarding dentistry, they may help you improve your practice as well as social media targeting.
By staying up-to-date with the latest trends, you can ensure that your social media marketing strategy is effective and relevant.
Social Media Marketing from The Dental SEO Experts

The Dental SEO Experts is a team of highly experienced digital marketing professionals specializing in helping dentists grow their online presence. We offer various services such as social media marketing, website design, and search engine optimization.
We understand the importance of social media marketing for dentists, and we are dedicated to helping our clients succeed. Schedule a free consultation with us today, to learn more about how we can help you grow your dental practice.