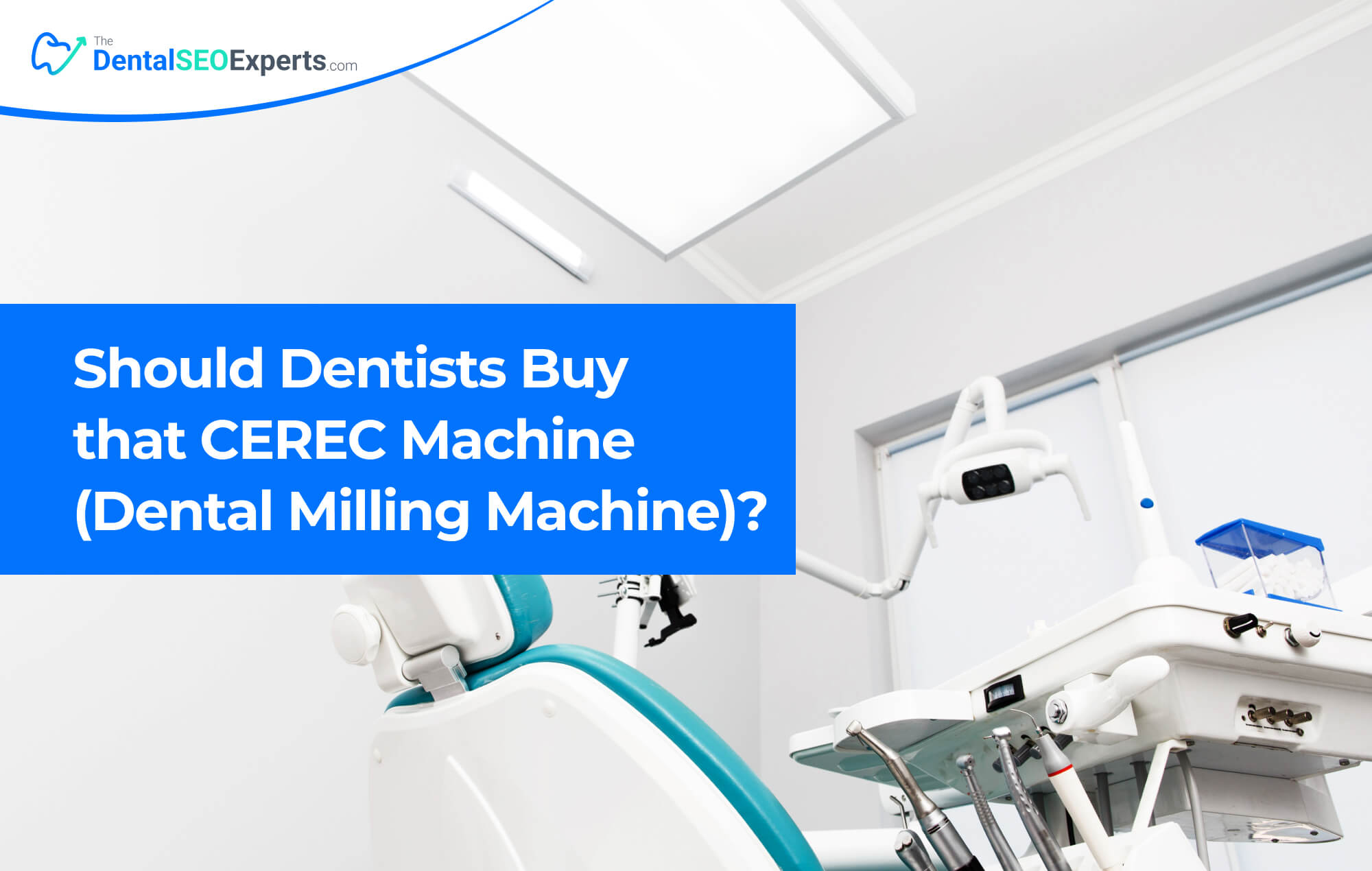 Over 15 million Americans wear dental crowns to cover broken or decaying teeth, making them one of the most popular dental procedures in the country. As a dentist, you probably already knew this, but have you considered how you make the administrative side of the process smoother? This can be done with a Chairside Economical Restoration of Esthetic Ceramics or a CEREC machine.
When investing in a CEREC machine, there are many factors to consider, the most important of which are explored in this article. Keep reading to learn more. Alternatively, to find out more about how to improve your dental practice, check out our SEO services.
What Is a Dental Crown?
A dental crown is a type of dental restoration that completely caps or encircles a tooth or dental implant. Crowns are often needed when a large cavity threatens the ongoing health of a tooth. They are also used to support broken teeth, and to enhance the appearance of discolored or misshapen teeth.
Crowns can be made from a variety of materials, including porcelain, ceramic, and metal. Porcelain and ceramic crowns are the most popular type, as they offer a natural appearance. Metal crowns are usually used on back teeth, as they are the strongest type of crown.
What Is a Cerec Machine?
A CEREC machine is a specialized device used by dentists to create high-quality dental restorations such as crowns and veneers. This advanced technology uses computer software and 3D imaging to scan the affected tooth or teeth, allowing the dentist to design a customized prosthetic that precisely fits the affected area. The CEREC machine then creates the restoration from a block of ceramic material, which is then bonded to the tooth using a special adhesive.
The entire process can be completed in just one visit to the dentist, and the results are immediate. This means that patients don't have to wait weeks, or even months, for the procedure or deal with the discomfort of wearing a temporary crown.
How Does a CEREC Machine Work?
The first step in the process is to prepare the tooth that will receive the restoration. This usually involves removing any existing decay or damage, as well as a small amount of healthy tooth material to make room for the repair.
Once the tooth is prepared, the dentist will use a special camera to take an image of the tooth. This image is then transferred to the CEREC machine, where it is used to create a 3D model of the tooth.
The next step is to design the restoration. The CAD software on the CEREC machine allows the dentist to adjust various parameters, such as material type and thickness, to create a restoration that fits precisely into the prepared tooth and meets your specific needs.
Once the design has been finalized, a block of ceramic material is placed into the CEREC machine. The CAM software then controls the milling process, carving the restoration from the block of ceramic according to the dentist's specifications.
The last step is to bond the restoration to the prepared tooth using a special adhesive. Once in place, the restoration will look and function just like your natural tooth. With proper care, it can last for many years or even decades.
CEREC Crowns vs Lab Crowns
Both CEREC crowns and lab-created crowns are made from high-quality materials that look natural and provide long-lasting results. However, there are some key differences between these two types of dental restorations.
Turnaround Time
One of the main differences between implanting a new CEREC crown and a lab crown is the time needed to complete the procedure. CEREC crowns can be made in just one visit to the dentist, while lab crowns usually require two or more visits. This is because the CEREC machine can create the restoration from start to finish in a single session, while lab crowns must be fabricated by a dental technician and then bonded to the tooth by a dentist.
Lab Costs vs Cerec Costs
Another important factor to consider when choosing between CEREC and lab crowns is cost. A lab-made permanent crown is typically more affordable than CEREC, as they do not require the advanced equipment and specialized materials that are used in the CAD/CAM process.
Benefits of an In-Practice Milling Unit
Faster turnaround time is not the only advantage of CEREC technology. There are several benefits afforded by CEREC machines, both to dentists and to dental patients. Here are just a few:
Minimize Human Error
An in-practice dental milling machine eliminates the possibility of human error by automatically producing dental restorations with precision and accuracy. With this technology, your dental team can be confident that they are providing the highest quality dental care possible.
Natural Appearance
Another key benefit of dental milling units is that they can create dental restorations that look and feel just like natural teeth. By combining advanced technology with high-quality materials, dental milling units produce dental restorations that blend seamlessly with your existing teeth.
Durability
Dental milling units can also create dental restorations that are highly durable. In many cases, dental crowns and bridges created with dental milling units can last for many years with proper care. This makes the CEREC dental procedure an excellent option for patients looking for a long-term solution to their dental needs.
Expenses and Unit Costs Associated with CEREC Machines
The cost of dental milling units can also vary depending on the specific model and brand. However, dental experts estimate that the average cost of a dental milling unit is between $15,000 and $30,000. As with CEREC machines, there are also ongoing costs associated with dental milling units, such as maintenance, repairs, and replacement parts.
Despite the high initial cost of CEREC machines and dental milling units, many dentists feel that the investment is worth it. The increased efficiency and accuracy afforded by these machines can save your practice time and money in the long run. In addition, the ability to provide high-quality, same-day dental restorations can give your practice a competitive edge.
If you are considering investing in a CEREC machine or dental milling unit for your practice, be sure to do your research and choose a reputable brand that is backed by a good warranty. With the right machine, you can provide your patients with the best possible care while increasing the efficiency and profitability of your practice.
Problems Associated with CEREC Machines and the Benefits of Lab Crowns
No dental solution is perfect, and, despite being a convenient technology, CEREC is not without its flaws. Here are some drawbacks to consider when purchasing a milling machine for your dental office and the brighter side of lab crowns.
Incompatible with Some Broken Teeth
The CEREC process is only compatible with certain types of dental damage. If a tooth is too severely broken down, there may not be enough structure remaining to support a CEREC restoration. In these cases, a dental implant or dental bridge may be the best option. Lab crowns can be used to restore any type of dental damage, no matter how severe. This makes them a more versatile solution for dental problems.
Requires Special Training
Operating a CEREC machine requires special training and expertise. This means that only dental professionals with the proper training and experience can use this technology. Lab crowns, on the other hand, can be made by any dental professional. This makes them a convenient solution for dental practices that do not have the required training resources.
Handcrafted Tends To Be Higher Quality
When dental restorations are made by hand in a dental lab, they tend to be of higher quality than those produced with the CEREC machine. This is because dental labs typically have more experience and expertise in dental technology, making them better equipped to produce top-quality dental restorations.
Business Considerations: Is a CEREC Machine Right for You?
The above pros and cons should be considered when deciding if a dental milling machine is the right solution for your dental practice. If you are looking for a versatile solution that can be used to restore all types of dental damage, then a dental lab may be the better option. However, if you are looking for a convenient solution that does not require special training, then a CEREC machine may be the right choice.
Ultimately, the best choice for your dental practice will depend on various factors, including your budget and dental needs. So, be sure to carefully consider all of these considerations when making your final decision.
How to Buy a CEREC Machine
When considering the purchase of a CEREC machine, it is important to do your research and find a reputable brand that is backed by a good warranty. With the right machine, you can provide your patients with the best possible care while increasing the efficiency and profitability of your practice.
Here are some factors to consider when purchasing a CEREC machine:
Brand reputation: Choose a well-known brand that has a good reputation in the industry.
Machine capabilities: Make sure the machine you select has the features and capabilities you need.
Training resources: Be sure to consider the training required to operate the machine. Only dental professionals with the proper training and experience should use this technology.
Warranty: Choose a machine that comes with a good warranty. This will protect your investment in case of any problems.
Get the Latest Advice from The Dental SEO Experts
Want to stay updated with the latest industry advice (check out our blog)? Or perhaps you want to take it a step further and enhance your practice with new technology and a solid marketing strategy. If so, then you're in the right place.
At The Dental SEO Experts, we have a team of professionals with long-standing industry experience ready to provide your practice with a successful SEO marketing campaign. Schedule a free consultation with us today to learn more.