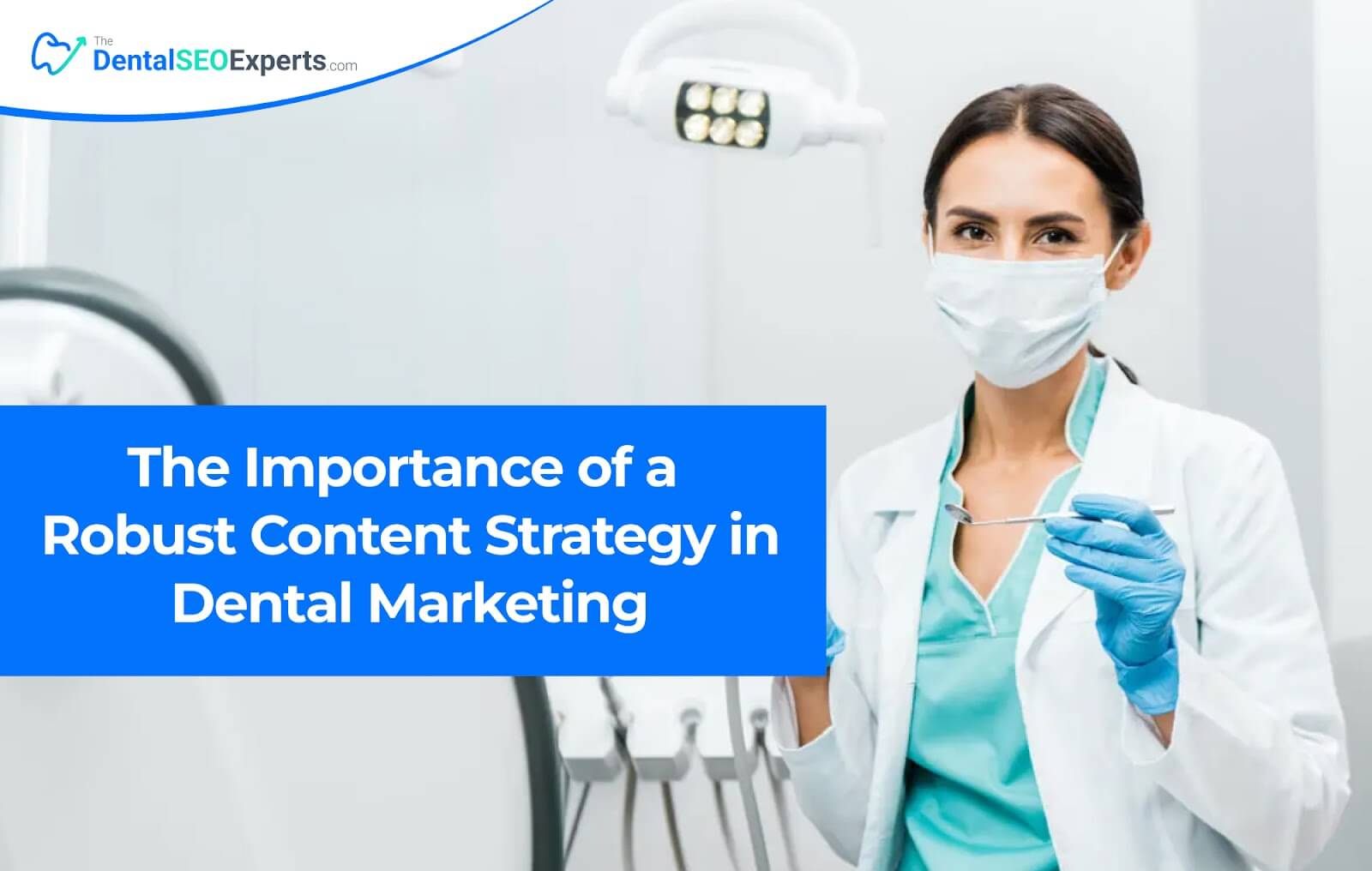 There are many ways to advertise and promote your dental practice, but one less considered approach is content marketing. You may not initially associate the dental industry with creating engaging online content, yet there is ample opportunity to do so. What's more, the content marketing industry is projected to reach over
$137 billion by 2026
, highlighting its perceived value.
Understanding the worth of dental content marketing is one thing, but what exactly does it involve, how does it fit into dentistry; and what does it take to run a successful content marketing campaign? This article attempts to answer these questions and more. Keep reading to learn the ins and outs of content marketing in dentistry.
What Is Content Marketing?
As the name suggests, content marketing is the practice of advertising by creating and distributing original content to a relevant audience—for example, producing videos, images, and
blog posts
. Content marketing also significantly affects pay-per-click (PPC), search engine optimization (SEO), and social media advertising. This is because each of those respective categories requires some form of content. A comprehensive SEO campaign, for instance, will require articles with specifically targeted content, in the case of this industry, dentistry. The same applies to PPC ads and
social media marketing
.
Why Is Content Marketing Important for Dentists?

On average,
74% of businesses
found that content marketing improved their lead generation, providing more opportunities and relevant inquiries. So, how does this apply to your dental practice? Dentistry is in the unique position of being both a widely needed and nichè service. For example, many patients go to dentists wholly to improve and maintain oral health, while others go for aesthetic reasons.
Content marketing allows you to target a broad range of individuals within a nichè market. This means you can encompass both the specialized end of the patient spectrum and the need for good oral health. However, using pay-per-click (PPC) ads and SEO practices, you can also target individual areas if your practice specializes in particular procedures.
What Type of Social Media Platforms Work Best?

Each social media platform lends itself to different types of content aimed at alternate demographics. Though content marketing for dentists is not limited to social media, as it can be executed through your dental practice website, social media is the main avenue on which to share content and build an audience. Here is a rundown of the most popular social media platforms for advertising and for what content they're best suited.
Facebook
Facebook is one of the most powerful social media advertising tools available. The platform has ample functionality to afford solid dental content marketing campaigns, such as an extensive PPC ad management portal. On average, video content posted to Facebook gains an additional 13.9% engagement increase over other forms of content. This means that if you plan to use Facebook as your primary driver for content marketing for dentists, you should focus on creating videos. Though that's not to say other forms of content won't perform well.
Long-form content, such as articles above 2000 words, also perform well, increasing page retention time by 30%. As a result, linking long-form articles, or writing long posts, on your Facebook page is another effective form of content for the platform.
Instagram
As with all major social media platforms, Instagram has a complex algorithm. Understanding how to exploit this algorithm and what types of content it prefers allows you to post content that is organically promoted by Instagram itself. As it's primarily a photo-sharing platform, Instagram loves strongly visual posts, meaning images without text. Any information you need to convey with text should be included in your post's caption, not the image itself.
Leading on from this is Instagram's preference for posts containing faces. This is because photos of people showing their faces receive up to 38% more interactions than those without. Increased engagement signals to Instagram that your post appeals to a substantial audience of users, incentivizing the platform to promote your post to increase app dwell time. To summarize, Instagram is perfect for visual content, such as pictures of happy patients.
Twitter
Twitter is the opposite of Instagram in that it focuses on short-form text-based content. However, Twitter does allow users to post videos and photos along with 280-character tweets. Including visual content is not a necessity on Twitter, but it will help your posts garner more attention. This is because visual content tagged to a tweet means your posts take up more feed space, allowing them to stand out from the surrounding text-based content.
YouTube
Second only to Google, YouTube is the largest search engine in the world. This makes the marketing opportunities afforded by the platform extensive and effectively intertwined with Search Engine Optimization (SEO) practices. It goes without saying that visual content works best on YouTube, but how do you get your dental content noticed?
Simply put, by taking advantage of the platform's SEO marketing capabilities. This means writing detailed video titles and descriptions that hit on several relevant keywords, as well as using appropriate tags. It's also worth noting that the YouTube algorithm prefers videos that are ten minutes or longer, making it the perfect platform for long-form content.
What Makes a Successful Content Marketing Strategy?

Detailed Planning
When developing a content marketing strategy, it's easy to get carried away pursuing success. However, it's crucial not to dive in head first. Your content marketing strategy should be meticulously planned, from producing content to outlining a posting schedule. This will help to ensure a successful content strategy.
Begin by defining your marketing objectives. What do you hope to achieve through your content marketing efforts? Is your primary goal to generate more patient leads or to increase awareness of proper dental hygiene? The answer to this will affect several facets of your efforts, such as the content creation process and audience targeting.
Once you've set goals, you can begin brainstorming content ideas. To ensure a solid content strategy, it's good practice to outline a strong number of future social media and blog post usage. That way, you'll never be short of content, meaning you can keep your online momentum going for months to come. This momentum helps inspire growth, whether that means giving Google articles to regularly index or social media algorithms relevant content.
Creative and Relevant Content Ideas
There are over 95 million daily posts on Instagram alone. Combined with other major social media platforms, this makes for an absurdly high volume of new content published every day. Though not all social media content is geared towards dental patients, there is still a substantial volume of posts to compete with. When you create content, it needs to stand out from the crowd.one to two posts a day
There are several ways to do this: be unique, relevant, and relatable. Let's break these content pillars down.
Be Unique: Your content should be creative and unique. However, that doesn't mean you should ignore social media trends. Instead, you should build on them or approach them from a new angle.
Be Relevant: When creating content, it needs to be appropriate to dentistry, your practice, and service specialities. Otherwise, you risk attracting an audience who may have incorrect expectations when visiting your clinic.
Be Relatable: Relatable content inspires a connection between you and your audience, making them more likely to engage. A simple way to do this is by including faces in your social media posts. Doing so also appeases social media algorithms. You can learn more about this topic in our guide to 5 Useful Tips to Increase Your Dental Practice's Instagram Audience.
Frequent Posting
As discussed with Detailed Planning, momentum is essential when it comes to content marketing. Regularly appearing in your audience's social media feeds helps to keep you on their radar. However, it's possible to post too much and bore them. Generally speaking, creating one or two posts a day is an appropriate amount. Any more and you risk appearing like a spam account, which will also drop you out of favor with social media algorithms.
Aside from running a social media content marketing campaign, frequently posting is also crucial when conducting SEO marketing. This is because regularly uploading content, such as articles, gives search engine crawl bots new content to scan and index. This leads to your search engine listing being accurate and up-to-date, which can positively influence your search engine results page (SERP) rankings. The higher you rank, the more traffic your website gets.
Leave It To The Experts, The Dental SEO Experts

As a dentist, you lead a busy professional life. This means you might not have the time to plan and execute a robust content marketing strategy. That's where we, at The Dental SEO Experts, can help. We have a team of dedicated SEO and social media marketing specialists ready to work at your disposal and grow your dental practice's customer base. Schedule a free consultation with us today to learn more.