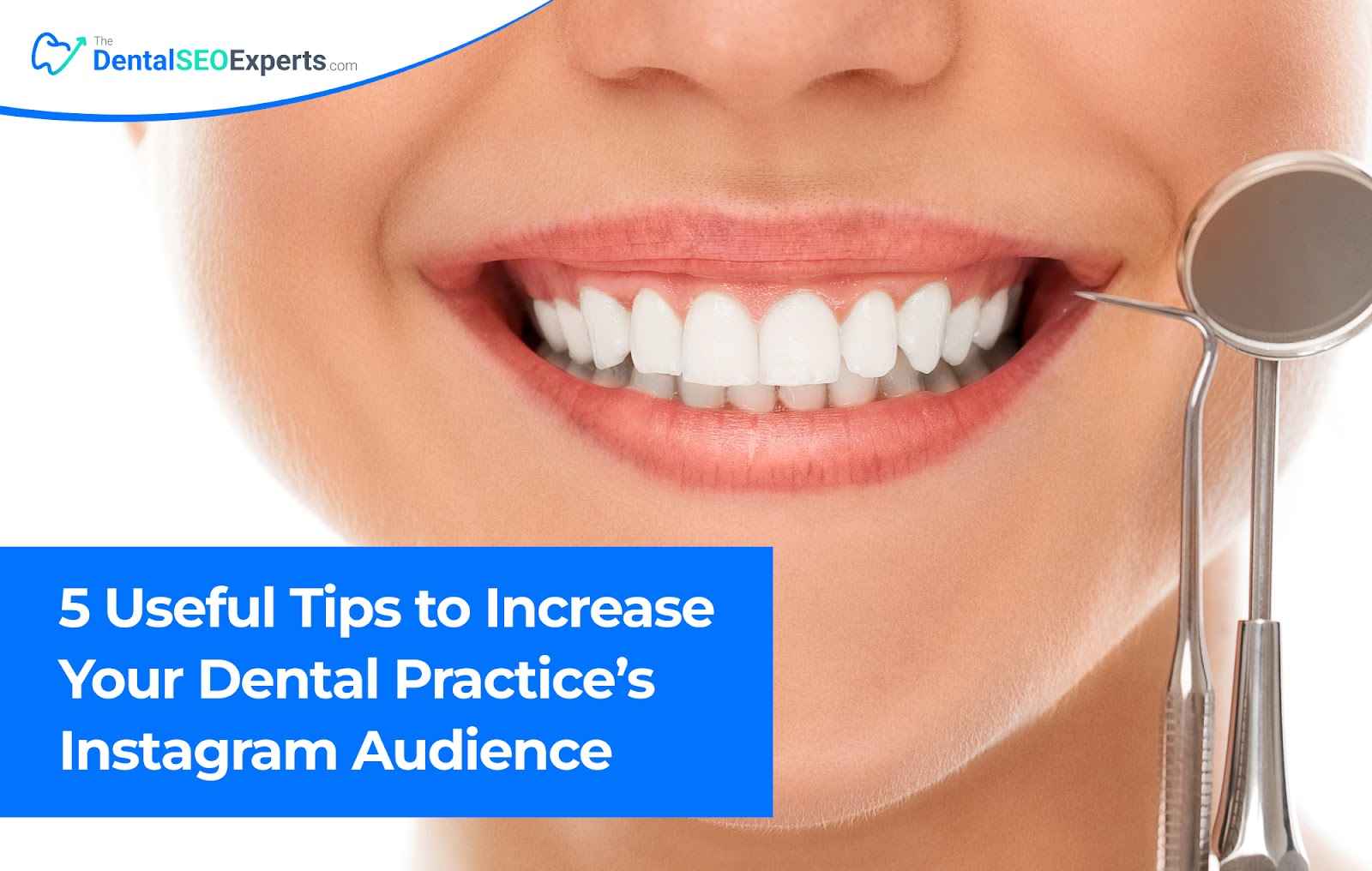 Did you know there were over 200 million business profiles worldwide on Instagram in 2021? Moreover, 98% of marketers consider Instagram the most powerful social media platform for influencer marketing over its older cousin, Facebook. Its effectiveness extends to the dental industry, providing a platform for engaging content that connects with potential patients. Building your Instagram audience is crucial for success in social media advertising.
Growing your clinic's Instagram audience is easier said than done if you're not an expert at social media marketing. Thankfully, The Dental SEO Experts are here to help. This article covers the basics of Instagram marketing, as well as showcasing five valuable tips to increase your dental practice's Instagram audience. Keep reading to learn more.
Organic vs. Paid Advertising

As with all social media platforms, there are two main categories of Instagram advertising: organic and paid.
Organic Advertising
Organic advertising is the practice of using user engagement and leveraging social media platform algorithms to promote your posts without paying for ads. For example, creating a viral video can generate thousands, even millions, of views and shares, growing your audience with no cost other than production. In this instance, the social media platform would have noticed your content getting a substantial amount of interaction and pushed it to a broader audience to inspire more engagement with the platform. Organic advertising can also simply mean creating and presenting content to your existing audience and inspiring them to share your business with their friends and followers.
Paid Advertising
In contrast, paid advertising is the practice of placing pay-per-click (PPC) or pay-per-impression (PPI) ads on social media platforms. When promoting a post using the Instagram app's built-in ad portal, you are charged per impression, usually spending 100% of your designated budget. However, you can also use the Facebook ad management portal to place PPC ads on Instagram. Paid advertising typically targets social media users based on their interests and demographics and when done correctly, paid advertising is an effective way to generate brand awareness. PPC and PPI run the risk of becoming particularly costly if not positioned correctly.
Types of Instagram Content

Many social media platforms specialize in one particular format of content, i.e., text posts on Twitter, but Instagram provides a diverse collection of content presentation options. Understanding and utilizing each of these content formats means that your practice will reach the broadest possible audience, solidifying your brand through the repetition of content. Here are the four main types of Instagram content to consider.
Single Photos
Single photo posts are the bread and butter of the Instagram platform. As the name suggests, they are individual photos posted with a caption below. They are the format Instagram was founded on and are a simple, low-content way to post to the platform. Generally, single photo posts inspire less user engagement than the following formats.
Carousels
Carousels are a collection of up to ten images or videos uploaded as one post. They function as a gallery that allows users to swipe between content. Carousels are excellent for user engagement as users must interact with the full post; this causes them to dwell for longer, increasing the chances of more direct interaction such as liking or commenting.
Reels
Reels are Instagram's answer to TikTok. They allow users to create, edit and post short-form videos with on-screen captions, music, and effects. Due to the growing popularity of TikTok, Instagram actively promotes content made with Reels, likely in order to compete with their rival. This makes Instagram Reels an excellent source of organic advertising. As long as you utilize its many features, your posts will likely garner thousands of views without too much marketing effort.
Stories
Facing off against another previously rising social media platform–Snapchat–Instagram created Stories to rival its functionality. Instagram Stories allow users to post additional content that isn't important enough to be featured on their main feed. Yet, with the ability to add links, hashtags, polls, and run Story ads, Instagram Stories is a crucial marketing tool.
5 Tips for Dental Instagram Marketing

Now that you understand the basics of Instagram let's take a look at The Dental SEO Experts' five valuable tips for dental Instagram marketing.
1. Don't Overuse Hashtags
When posting to Instagram, people tend to think that using more hashtags is better because they have the potential to reach a broader audience. However, Instagram penalizes posts that feature over five hashtags. Using fewer, more relevant hashtags allows Instagram to more effectively categorize your posts, deliver them to the right audience, and positively affect search engine optimization (SEO). Ensure that your dental practices Instagram posts do not overuse hashtag to avoid them being buried among spam content and long forgotten posts.
2. Include Faces
Instagram posts that feature faces get roughly 38% more likes and 32% more comments than those without, meaning it's crucial to increase your engagement. Why do posts with faces increase user interaction? Simply put, it builds trust and boosts credibility. For example, it's easier for your audience to relate to a patient sitting in a dental chair than for them to identify with oral hygiene statistics. Not only does including faces strengthen your relationship with your audience, but it also appeals to the Instagram algorithm. This is because the algorithm understands that pictures of faces inspire greater engagement. As a result, the algorithm is more likely to organically promote your post if it features a face.
3. Create Content for Instagram Reels
As discussed in the previous section, Instagram Reels are an effective type of content due to the format rivaling TikTok. Though posting to reels generally garners more views than a typical Instagram post, creating content to appease the algorithm requires more effort. First of all, you need to identify what type of content is trending on reels. Trending content usually has a song attached. Including trending songs in your Reels and creating content that plays off trending topics will put you in the running for solid organic promotion. Utilizing other Reels functionality, such as the inclusion of on-screen captions, will also improve your standing
4. Utilize Instagram Stories
Another content format previously discussed is Instagram Stories. Creating compelling content for Instagram Stories is an excellent way to inspire engagement among your followers and direct them to your website or dental practice sign-up area. This is because Stories has several features that encourage users to interact with posts. For example, you can create polls and opinion surveys directly within Story posts, allowing you to harvest interaction and book engagement. Once your engagement levels increase, Instagram will present your account to your followers before showing new content from unfollowed accounts.
5. Follow Similar Accounts
Following similar accounts, i.e., users that operate in the dental industry or produce related content, allows Instagram to more effectively identify your accounts' purpose. However, following a large volume of accounts and later unfollowing them is a common but frowned upon practice. It leads to animosity among followers and, generally, a disengaged user base. Moreover, Instagram will eventually restrict the number of accounts you can follow and unfollow daily if this practice is recurring. It's best to avoid mass following and regularly follow a sensible amount of similar accounts.
Social Media Marketing from The Dental SEO Experts

As you can see, understanding the Instagram algorithm is crucial to growing your Instagram audience. However, without expert knowledge or experience in social media marketing, it can be challenging to see substantial results. Thankfully, The Dental SEO Experts can help.
We have a team of professional search engine optimization and social media marketing specialists ready to grow your clinic's Instagram account. Schedule a free consultation with us today to learn more.