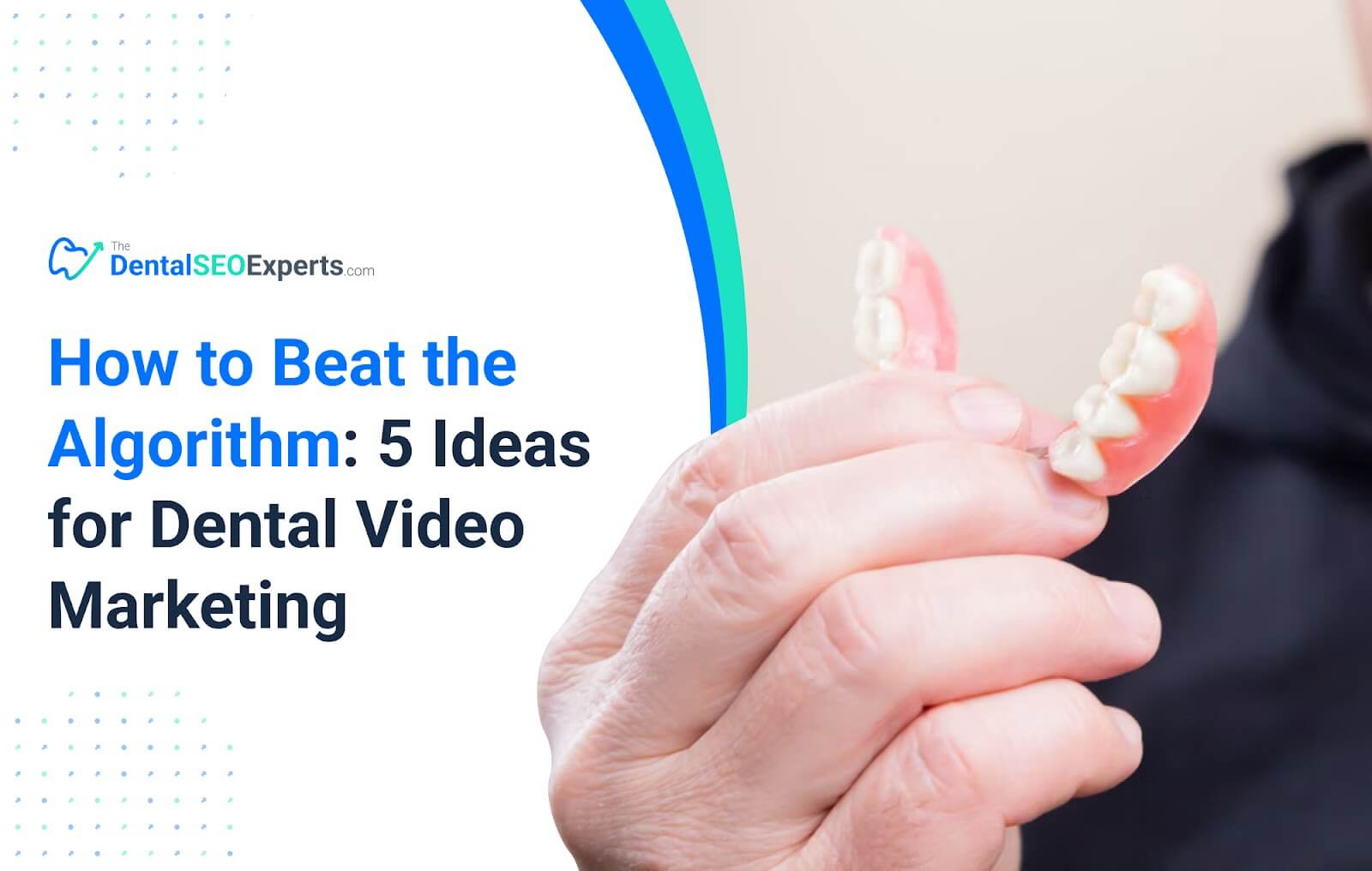 With every dental practice comes a need for marketing. The trouble is, sometimes it's difficult to know where to start and how to run an effective marketing campaign. You may have tried traditional advertising or even some facets of digital marketing, such as search engine optimization (SEO), but one area that should not be underestimated is video marketing.
This article explores video marketing, and how each social media platform's algorithm plays a part in the content you must produce. If, however, you'd like to learn more about social media marketing itself, check out our Top 8 Dental Social Media Marketing Ideas. Otherwise, keep reading to learn more.
What Is Dental Video Marketing?

As the name suggests, dental video marketing is the use of video content to promote your dental practice. A video marketing strategy aims to increase awareness of your dental clinic online and generate new leads. When executed correctly, video marketing efforts can lead to several benefits, as discussed below. However, understanding social media and video platform algorithms is crucial in effectively creating videos.
Why Is Dental Video Marketing Important?

As mentioned at the beginning of this article, there are many means of digital marketing available to you as a dentist. So why choose video marketing above the rest? Well, in reality, most dental practices will use a combination of marketing techniques to generate patient leads. For example, video content works best in combination with social media advertising. Nonetheless, here is a small handful of benefits associated with dental video marketing:
Increase Exposure: Creating dental videos is an excellent way to increase online exposure as it helps you leverage your existing social media following and grow your audience.
Improve Reputation: Dental videos can help to improve your reputation both online and offline. This is because it gives you an outlet to relay useful information regarding your clinic and dentistry in general, creating a greater sense of trust between you and potential patients.
Ease Dental Anxiety: Showcasing dental procedures through online videos allows nervous patients to see what's involved in your services. This adds a layer of transparency and helps to ease dental anxiety.
What Is a Social Media Algorithm?

Social media algorithms are used to sort content by relevancy instead of publication time. This means users are presented with content they are interested in instead of the most recently uploaded posts. Social media platforms employ these algorithms to entice users and keep them using the app or website for longer. As a result, if a dental marketing video satisfies the parameters of an algorithm, it will gain greater exposure.
Algorithms are best compared to search engine ranking factors. There are over 200 known factors that determine a website's position on search results. However, each search engine has a different set of parameters that must be met for a website to rank highly. Similarly, each social media platform has its own algorithm that affects a video's exposure levels. Understanding these algorithms is crucial in running a successful video marketing strategy.
Which Platform Is Right for You?

YouTube

When it comes to video content, you won't be surprised to hear that YouTube is king. Not only is it the second largest search engine worldwide, next only to Google, but it also provides valuable tools that allow you to embed videos into your dental website. Moreover, out of the following platforms, YouTube is suitable for a diverse mix of content, from long-form explainers to short clips, making it an excellent platform for any dental video marketing strategy. YouTube prefers videos over 10 minutes long, as they offer more opportunities for ad placements and monetization, but the recent addition of the YouTube Shorts feature makes short-form content viable.
Algorithm Factors
SEO-Focused Descriptions: When uploading videos to YouTube, you should put effort into creating well-written and keyword-rich video descriptions. YouTube video descriptions work much the same way as copy on a website, meaning the more relevant keywords included, the more likely your videos are to appear on search results.
Engaging Titles: A central consideration of the YouTube algorithm is audience engagement, meaning your videos need to entice users. Two of the best ways to do this are through video titles and thumbnails. Your tags need to draw in users–using descriptive titles is best.
Attractive Thumbnails: An attractive thumbnail begins with the correct dimensions. Your thumbnails should be set to 1280×720. They should also have a bright background, be relevant to your content, and include keywords.
Consistent Uploads: Another key algorithmic consideration that applies to all of the following platforms is the consistency of uploads. It's simple, the more you upload, the more likely you are to appear in search results and increase audience engagement.
Facebook

Regardless of changing trends and new platforms rising to prominence, Facebook remains the most popular social media platform worldwide, with over 36% of the population having a profile. Typically, users post text-based and long-form content popular with older demographics. However, videos are better at driving engagement than text-based content on Facebook, granting a 148% increase in reach.
Algorithm Factors
Avoid Click-Bait: When trying to get users to engage with your posts, it's easy to reach for a click-bait title that promises something undeliverable. Facebook video captions should be authentic and descriptive, much like YouTube.
Use Stories: To keep on top of trends, Facebook introduced the Stories features that allow users to post short-form content like that of Snapchat. Facebook likes it when you use this feature due to its popularity. As a result, when posting to Stories, the platform is more likely to boost your content.
Verify Your Page: You can request page verification through the settings tab on your Facebook account. Once verified, you're page is immediately put in good standing with the platform as a trusted page.
Helpful Content: No matter the platform, genuinely useful content tends to perform better as it offers users something in return for their engagement.
Instagram

Besides YouTube, Instagram is the most visual social media platform on this list, making it an ideal choice for video-based advertising so, dental marketing on Instagram is most. However, Instagram is tailored toward photography, meaning there are some considerations to be made, as discussed below.
Algorithm Factors
Avoid Text: One of the biggest faux-pas on Instagram is the use of text on visual and video content. Your videos should contain no text. Anything you want to say can be noted in your post's caption.
Include Faces: Instagram loves faces and organically boosts posts that contain them. This means it's crucial to include faces in your videos if you want to maximize your reach.
Profile Taps: The volume of profile taps your account gets from posts helps Instagram determine whether your content is worth promoting. Therefore, you must include a call-to-action in your posts, directing users to your profile. The same applies to likes, saves, and comments.
Retention Rate: If a user spends a long time on your post, for example, watching a video the whole way through, Instagram views your account favorably and the platform pushes your content to more users.
Twitter

Of all the platforms on this list, Twitter is the least effective when it comes to video content. However, that's not to say there's no opportunity to advertise your practice through Twitter video marketing. For instance, tweets with videos are six times more likely to be retweeted than posts without. Short-form promotional content and video messages generally perform well on Twitter.
Algorithm Factors
Stay Active: Regularly tweeting and engaging with other Twitter users is key to being discovered through the platform. It's recommended that you tweet three to five times per day, meaning you'll need to produce a challenging volume of videos to perform well on Twitter.
Hashtag Usage: Hashtags are a widely used function on Twitter, allowing the platform to sort posts by topic. They are an excellent way of viral marketing and can help your videos appear in front of the right people.
Use Polls: Twitter polls are a simple way to encourage user engagement. They can't be used in combination with a video in a single tweet, but you can use them to discover what content your followers want to see. This boosts engagement and gives your campaign a sense of direction.
Consider Timing: Tweeting videos when users are most active is essential, as it's easy for posts to get lost, among others. Generally, the best times are before 9 am when people begin work, and during typical break times like 11 am.
TikTok

TikTok is the ultimate short-form video platform, perfect for advertising to younger demographics, with 62% of its userbase under 25. With the exception of video captions, TikTok is an entirely video-based platform, making it an excellent choice for video marketing if you can create the right content. The most popular posts mimic trending topics, but this extends to favored subjects within subcultures. If you can shoot videos relating to popular trends and dentistry, you will likely see an increased viewership.
Algorithm Factors
Subculture Focus: TikTok subcultures are niche communities that upload videos relating to the same topic. For example, there is a large following of ASMR videos. Creating dentistry videos that relate to a subculture, like ASMR, is an effective way to get your videos viewed by thousands of people.
Use Trending Audio: TikTok allows you to place audio clips on your uploads from a library of popular sounds. Using trending audio clips enables users to find your videos when searching for posts using that sound.
Use Relevant Captions: When advertising a product, it's tempting to aggressively direct users to your practice in your video captions. For the best results, however, you should keep captions relevant to the video and direct users to your profile, where they can find more information on your clinic.
Short Videos: As you can imagine, given the short-form nature of TikTok, keeping video content brief is the best practice as users are likelier to watch short videos the whole way through. A high retention rate helps TikTok view your video positively, pushing it to more users.
5 Effective Dental Video Marketing Ideas

1. Testimonial Videos
Testimonial videos feature previous patients explaining their experience with a dental clinic. This can be done by having them interviewed on camera or through onscreen quotes accompanied by a voiceover. Regardless of how you choose to present a testimonial video, ensure it looks professional–this may require the employment of a video production company or marketing specialists. Showcasing patient testimonials is an excellent way to build trust in your practice, as prospective clients will gain an understanding of your services from a relatable party.
2. Show Procedures
Roughly 36% of Americans experience dental anxiety. As with many worries, this fear likely stems from the unknown–not understanding the steps involved in particular dental procedures. Subsequently, creating content to showcase these procedures is a simple way to calm new patient worries. It also enables you to touch on several evergreen TikTok trends, i.e., trends that don't tend to stagnate. For example, one continuously popular type of social media video is oddly satisfying content. This usually takes the form of someone cleaning a filthy item in a precise or meticulous way. Therefore, creating dental hygiene videos featuring close-ups of cleaning procedures could boost your social media following.
3. Promotional Videos
Technically all videos on this list can be classed as promotional, but this item denotes the disconnected, salesy content found on most marketing websites. You know the type: stock footage, lots of text, AI voiceover. At face value, these videos may appear tacky, but they are a cost-effective way to create high-quality introductory videos. You can use promotional videos as a means of getting your practice's main services across without breaking the bank on video production. They are well suited to Facebook and embedding on your website's homepage.
4. Answer Questions
Questions and Answers (Q&As) is a video format that performs well across platforms. Like showing procedures, Q&As are an effective way to ease patient anxieties, as well as allow them to know you and your practice on a more personal level, building trust. What's more, similar to promotional videos, Q&As are cheap and effortless to make–all you need to do is ask your followers what questions they'd like answered, sit down in front of a camera, and record your answers.
5. Educational Videos
Educational videos are a hybrid of Q&As and showcasing procedures. They can be used to inform your patients about your services on a deeper level–educational videos also tend to be popular among viewers. For example, the average 'how to' video on YouTube garners an average of over 8000 views. At face value, this may not seem like a huge figure. However, if targeted correctly, using the best SEO practices like those provided by The Dental SEO Experts, your viewers will be genuinely interested in your services. Educational videos are an excellent way to both inform and educate your patients while drawing in new clients.
How Can The Dental SEO Experts Help?

At The Dental SEO Experts, we recognize the importance of video marketing for your dental practice. That's why we offer comprehensive content planning and graphic design services to help you create exceptional videos. But what other services do we provide?
Search Engine Optimization
Social Media Management
Google My Business Management
Link Building
Local SEO
Schedule a free consultation with us today to learn more.